NEWS :


December 30, 2005
Example of yesterday GBBOT alert

GBBOT is the abbreviation of Broadening Bottom Alert.
Here is a trade i made yesterday.
I got this alert for ticker FRED at 11:12.
Description for this alert : Broadening bottom. Prices: 15.96, 15.99, 15.959, 15.994, 15.938, 16.01, 15.90. Started 21 hours 10 minutes ago. Last turn 17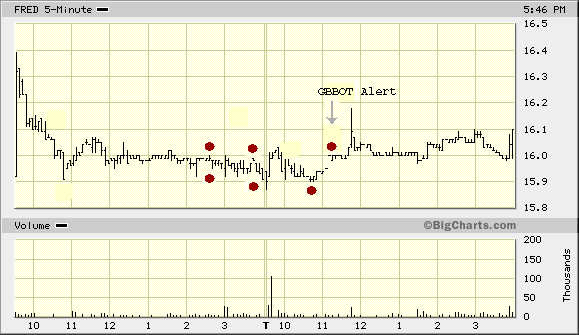 I bought 1000 shares of FRED @16.01$.
The stock made a nice move after some minutes then go back to 16$.

In my GBBOT Trading System, i got the best results when selling stock after only 30 minutes.
After 30 minutes i sold my stock for 16.09$ for a gain of 80$ or 0.4% (Commission Included).

The red points show the broadening bottom pattern.
It's true that pattern is not very clear but it's ok as long as Trade-Ideas automatically detect patterns that show good performance.
Recent Articles :
Broker Commission
New profitable Trade-Ideas Alert screens
Trade-Ideas best used with Medved QuoteTracker
Some information about trade-ideas 2006 new features
New profitable strategies
Market Order or Limit Order
Mininum Bid and Ask size filters
Other use of Trade-Ideas screens
Exit Strategies
Day trading Introduction
Sorting performance by filters values
Two trades i made yesterday using CHBO alert.
Improvements in my software
Day trading systems update comments
New filters added in alert-ideas
Broadening Bottom @ Day-trading.in